Pastoral Team
Senior Pastors
fe & Lisa Smuckerheir childrena, Sean & Nich
Senior Pastors Rafe & Lisa Smucker.... And their children Sarena, Sean & Nicholas
Rafe was raised in an Old Order Amish home in Lancaster County, Pa. He gave his life to the Lord at the age of 20 while pursuing a career in horse racing at Pocono Downs in Wilkes Barre, Pa. After deciding to follow Jesus and realizing that the lifestyle at the track was not a healthy one, he returned to Lancaster County were he has continued to work in the Equine industry as a blacksmith and horse doctor.
After becoming a born-again believer in 1993, Rafe felt the call to pastor a church. However, he did not start pursuing it until many years later after conquering many trials. He met and married Lisa Stoltzfus in 1995.
Over the years, while owning and running a couple different businesses, life took its toll on Rafe and took him down a path of addiction for several years, all the while running from the call to pastor. In 2011, Rafe decided he would no longer choose to live in bondage and would instead except the freedom, mercy and grace that God was offering him. God took him out of the bondage of addiction and brought him to a life of renewed vision, and a deeper desire and ability to live the life that God had been calling him to live.
Lisa Stoltzfus grew up in Guatemala in Central America. She is the daughter of a missionary couple named Elam and Barbara Stolzfus, who also came from the Amish community in Lancaster County. She loved working with the Hispanic people, helping her family with the churches they had started along with a clinic way back in the boonies of the Peten jungle. Her heart to serve brought her to Pennsylvania as a young girl of 18 to get her pilot's license so that she could become a lifesaving bush pilot to fly emergency flights out of her parents' clinic. However, while she was in Pa she met and fell in love with Rafe. After 9 months, Lisa had received her pilot's license and returned home. Rafe soon followed her, and after living with her family for three months, they became engaged. Lisa moved back to Pennsylvania, and in 1995 Rafe and Lisa were married. Together, they have reared three children, Sarena, Sean and Nicholas.
Lisa says..."It has been a journey filled with joy and pain. We have had many opportunities to grow in forgiveness, mercy and grace. God has been faithful in not abandoning us when we failed. He has brought us through many trials, walking beside us when we couldn't manage the walk and carrying us when we were too weak on our own. God used our friends and our church family at The Worship Center to keep us looking forward and leaving the past in the past. Because we've have that support, we now feel called to minister God's love and grace to so many others who are also walking along this journey we call life. Life is hard, and we need God and each other if we are going to make it. That is why Rafe and I decided in 2014 that it was time to take that step of faith and allow God to build a church through us, and anyone he wants to bring along to help us. We call our church "Our Forgiven Family" because that is what we are. We are a bunch of forgiven people doing the best we can to live lives of righteousness and teach as many people as we can that following Jesus Christ is the only way they will experience true, lasting peace and joy. Through Jesus, anyone can have a life that is free from addiction. Marriages can be restored, and life can have meaning again."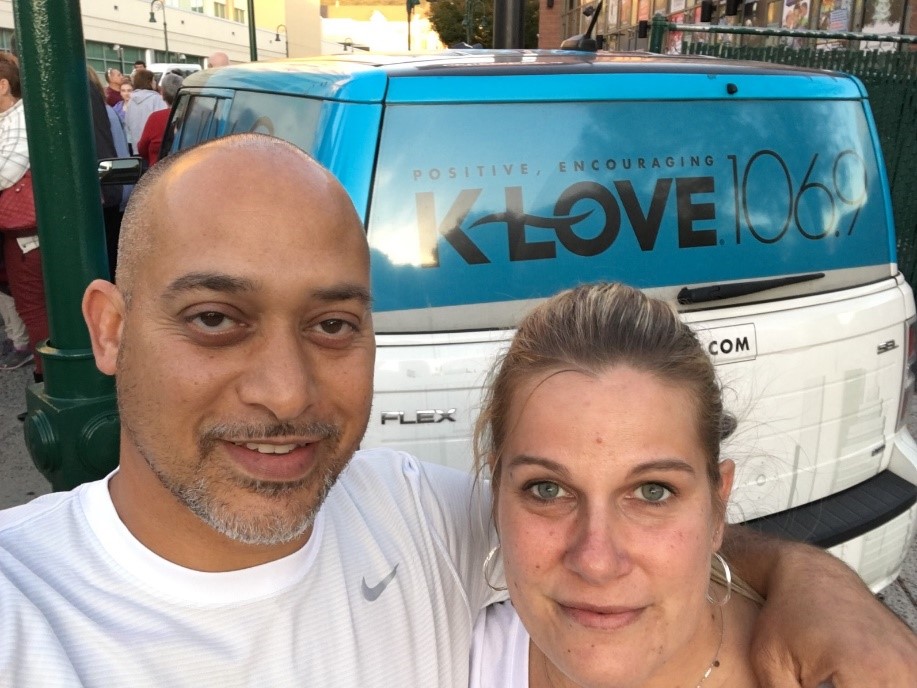 Assistant Brian Striver and Kristie Striver
Brian is Forgiven's Assistant Pastor. He and his wife Kristie were seeking a Holy Spirit-filled church when they found Forgiven's information on Facebook. So they decided to come try us out. From the moment they walked into Forgiven's doors, they knew that God had directed their steps and brought them to us.
Pastor Brian & Kristie will say, "We were greeted as if we were a part of a family the moment we walked in the door, and we knew we were home," . Their hearts seek building relationships with people by loving on them the way Christ loved us, regardless of our imperfections. They want people to see that Christ came to redeem and restore the broken. Their focus is on building others up in Christ and allowing them to walk this journey of life with Holy Spirit guiding. They have been through many of life's challenges, and had it not been for the Grace of God, they would not be walking in his perfect Peace. They want others to know with the power of Christ. You can have Heaven here now on Earth no matter life's circumstances."
Jesus came to heal by redemption, restoration and transformation. Brian & Kristie are the Couples Group leaders, and they also work with couples on an individual level to show kingdom principles within a relationship by following a biblical design. They are also a part of the prayer ministry team. Brian is the Men's Group leader, helping men to become the leaders in their homes and communities. Their passion is to help others seek Christ in order to transform their lives.